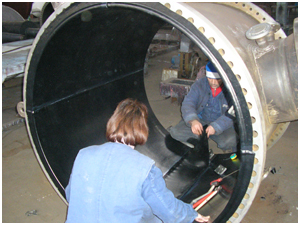 We supply workshop rubber linings from our production plant or directly on site (on-site lining). A crucial factor is the size of the item to be protected. On-site rubber linings can be used for high-quality corrosion protection even on large, immobile steel or concrete structures.
The hard (ebonite) or soft rubber linings supplied are based
on natural or synthetic rubbers, the elastomer sheets used being manufactured in Romania, using Anticorosiv know-how, or supplied by European producers. The elastomer sheets are installed in a vulcanized or unvulcanized state.