Rubber Lining Expert is a company established in 2008 by taking over the entire rubberlining activity of Anticorosiv SA Bucharest, company with more then 50 years experience in corrosion protections and the leader on Romanian market for rubber lining activities.
Trough this take over of the rubber lining activity, with know-how, equipments , all technical and working personnel, also traditional Anticorosiv's customer , we can sustain that Rubber Lining Expert became the major supplyer for rubber lining jobs in Romania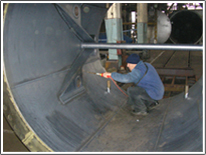 Rubber Lining Expert provide a fully comprehensive range of products and services for industrial corrosion protection, a complete system from a single source. This extends from consultancy and technical expertise, optimized material selection, delivery and installation right up to the warranty.